Probably one of the last things on your to-do list is garage door maintenance, and maybe it's not on your list at all. Garage doors are an often easy to overlook item. Your garage door is the first thing you see when you get home and the last thing you see when you leave for work. We just assume that it's always going to be in working order, but that's not always going to be the case. There are a few maintenance guidelines that can keep us and our garage doors on track. Most of these are quick fixes that should be done at least once a year, and now that it's summer, you have the perfect opportunity to check and fix your garage door before the snow and rain of fall and winter come back! Doing a few simple maintenance acts can prevent you from having to hire garage door Pittsburg experts for more costly repairs later on in the year for the life of your garage door.
1. Clean it out
Your garage door is one of the largest pieces of mechanical equipment that you use regularly, and it does need a tune-up every now and then. Give the door rollers, tracks, hinges, and latches a thorough cleaning with a citrus solvent and remove any built-up grime and dirt. Pay special attention that the tracks on both sides of the door are clear of leaves and other debris, and that they are evenly aligned. If you notice that the tracks need to be adjusted, this must be done by a professional garage door Pittsburg technician.
2. Lubricate it
The constant up-and-down motion that is required for garage doors day after day can take a toll on the pulleys, wheels, and tracks of your door. Make sure to check and regularly lubricate the door's hinges, springs, and bearings with a non-silicon based lubricant. Most technicians recommend that if you aren't sure what lubricant to use, motor oil is a standard garage door lubricant that is easily available. Make sure that you don't oil the actual roller tracks on your door, as direct lubrication of the tracks can make the door become unbalanced, triggering the door to slip and causing injury or damage.
3. Weather-strip it
Check the rubber weather seal on the bottom of your door. If the seal is brittle, cracked, or ripped, replace it! Weather stripping can not only protect the bottom of your garage door, but it can keep the elements out of your house. Weather stripping is usually sold by the foot at hardware stores. Just simply measure the length of stripping you need and replace it yourself, easily!
Don't let one of the biggest parts of your house go forgotten. Make sure you keep your garage door maintained and at peak performance. And when there are fixes or problems that require more than a cleaning cloth and lubrication, garage door Pittsburg experts Giel Garage Doors have the experience to get it working perfectly.

Maintenance on your entry door is essential to keep it looking as beautiful as possible and making sure you don't have to replace them more frequently than usual. Different materials require a different kind of maintenance and this is everything you need to know!
Steel Doors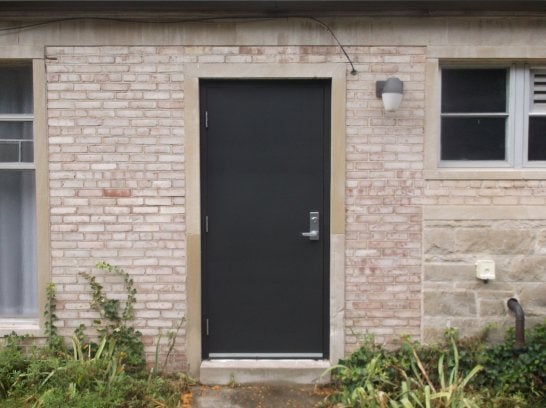 Once or twice a year, wash the outside of your door with a mild detergent. It is a good idea to apply a liquid silicone wax at the same time you wash the door. A liquid car wash & wax product that does both in one step works wonders and can be found at most auto part stores. Meguiar's Ultimate Wash and Wax is a great option!
Remember this rule: If you can use it on your car, you can use it on your door.
If your area uses salt on the roads in the in the winter and your door gets wet, you should rinse the bottom of your door clean to prevent the salty water from hurting your product.
We also recommend that you don't use a paste wax. Paste waxes tend to dry in the wood grain texture and beveled edges of the door and are difficult to buff out. This leaves behind a dried residue in the low spots which will ruin the aesthetic appeal of your door.
Fiberglass Doors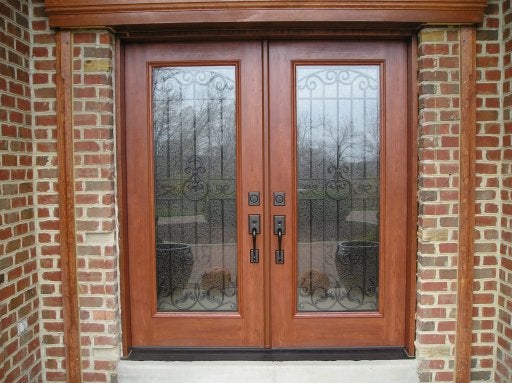 Apply the clear coat/paint annually or every other year depending upon the amount of sunlight your door receives. The clear coat is a two-part urethane to protect from the sun's UV rays.
Finish is usually available in pint or gallon size from the manufacturer or a paint shop. We suggest using a water based clear coat. If the clear coat is not maintained, the sun will damage your door similar to a "sun burn" causing it to peel and pull off the stain finish in the process.
The only way to repair this damage is stripping the door completely. Consistent maintenance will prevent this extreme damage from happening.
Wood Doors

Wipe away dust and dirt monthly with furniture polish. On painted wood doors periodically check for blistering, cracking or peeling, particularly around any fixtures on the door.
The painted surface keeps water from damaging the wood. If the paint is coming away or is not sealed, water can soak into the wood and damage it over time.
If your door has a stained finish, check to see if it is still water repellent. If the door is becoming discolored, and water soaks into the wood, it is time to refinish the door. There are chemical treatments on the market that will rejuvenate discolored wood, for example polyurethane clear coat.
Thomas V. Giel Garage Doors serves a 50-mile radius around Pittsburgh. We handle all your needs when it comes to entry doors! We also provide storm doors that are installed in front of the entry door to protect it.