SECTIONAL GARAGE DOORS
Sectional doors are comprised of horizontally hinged sections that roll along tracks to a position above the opening header with the use of a counterbalance mechanism. Manual, chain, and motor operated doors are commonly used for an efficient and economical means to close large openings. Various configurations and options are available to suit your specific needs.
Aluminum Full View Doors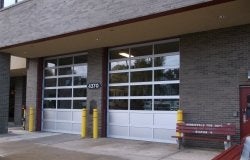 Aluminum style and rail construction fitted with glazing or aluminum panels. Glazing options from single pane to insulated and tempered Low-E coated lites can be combined with anodized or painted aluminum to provide a unique opening solution to your project. Local Fire Stations and emergency response bays often benefit from their clear view of the exterior to make a safe exit when necessary. Alternatively, a rising number of custom storefronts and restaurant users are taking full advantage of these sleek doors to provide flexible spaces such as outside dining space.
Three Layer Insulated Doors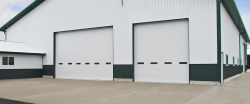 Today's sectional door of choice. Metal – Insulation – Metal. This door configuration offers enhanced durability and insulation properties through their 'sandwich' construction. Insulation is normally provided via laminated polystyrene or foamed in place polyurethane. Not only does this composite design offer some of the industry's best thermal properties (R-values of 9 to 22), it also provides a more structurally sound door that can be fitted to a wide range of door sizes and uses. Additional options and characteristics available: factory finished; custom powder coating; custom graphics; high cycle designs; break away panels; integral pass door; center mullions for large width openings; STC (sound transmission class) rated assemblies and more.
Pan Doors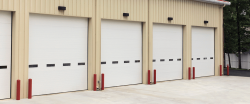 Single layer steel doors have largely been replaced by the 3-layer doors. However, the pan door still provides an economical solution to commercial and industrial openings. These doors are also available with insulation and vinyl or steel backing. Pan doors are ideally suited for medium to large openings where high usage and insulation is not a main concern.
Why Choose Us?
Onsite Professional Staff
Family Owned and Operated
Quality Workmanship
Honest and Integrity
Fully-Insured