Top 3 Benefits of Aluminum Awnings During the Winter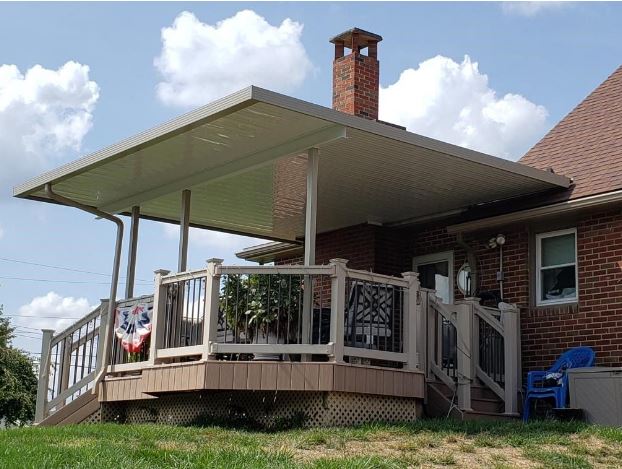 There are many benefits to aluminum awnings during the summer months. Have you ever wondered how an awning can help during the winter? Let's discuss the top three reasons why you will be glad to have aluminum awnings on your home this winter.
Benefit #1: Aluminum Awnings Prevent Snow and Ice Buildup 
Winter snow and rain often fall during the day when the temperatures are slightly above freezing. Then, as night falls and temperature drops, this moisture can quickly form an invisible sheet of dangerous ice creating hazardous conditions, as well as a slip-and-fall liability. Aluminum awnings can shield your windows, stairs, and walkways from the snow and rainfall, preventing the buildup of ice around windows and in high traffic walking areas.
Benefit #2: Reduce Energy Bills with Aluminum Awnings 
During cold winter weather, savings on energy bills is often a consideration when making decisions about exterior or interior home improvement. There are many different ways to keep your home cozy and save on energy costs, and aluminum awnings can help. The design of the aluminum awning can prevent heat from escaping from your windows, as well as shield windows from icy blasts of wind. 
Benefit #3: The Durability of Aluminum Awnings  
Awnings are often installed with the objective of keeping the home cooler in the warmer months by shading your windows, patio, or entryways from direct sunlight. While retractable fabric awnings are very efficient at shading these areas during the summer, aluminum awnings are durable and long lasting, providing you with protection from the elements like rain and snow. Aluminum awnings also require little to no maintenance to stay looking great for decades.
Aluminum awnings are great for covering your porch, patio, deck, windows, or doors. Rust-free aluminum never rots, stretches, or rips. Additionally, there are many different colors and designs available to compliment the color and style of your home. Add to your curb appeal and reduce your energy bills year round with fixed aluminum awnings from Thomas V. Giel Garage Doors, Inc. Call us today at 724-443-1437 to learn more.