Benefits of Different Types of Entry Doors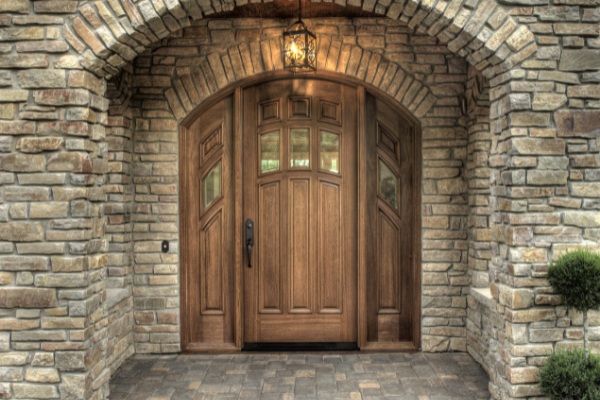 You only get one chance to make a first impression, and the same is true for your home. The entryway and front door can determine if the home looks inviting and friendly as opposed to cold and unnatural. Choices of materials and colors can perfectly complement your home's style or they can completely distract onlookers from its more attractive elements.
Your entry door can be a very enticing focal point of your house without breaking the bank or being overly ornate. Since entry doors can be made from different materials and offer options like glass panels and sidelights, there's always a choice that's perfect for your style and budget.
Let's take a look at the most common types of entry doors and what they have to offer.
Steel Doors
If you are especially concerned about safety, a steel door is an excellent choice because it will be harder to break into. In addition to increased security, steel doors also offer these benefits:
Energy efficient core insulation

Double and triple-paned glass units to let in light and to reduce heat transfer

Resistance to warping, shrinking, and swelling

Reduction of outside noise

Customizable options

Easy maintenance that only involves wiping or rinsing off dirt, an

More affordable options
Fiberglass Doors
The strength and resilience of fiberglass doors mean that you don't have to use a storm door to protect them. They offer these advantages:
Easy installation

Durability and strength against harsh weather and heavy use

Energy efficiency

Lightweight construction to reduce wear and tear on hinges and framing

Simple maintenance

Secure against break ins

Versatility of styles and color options
Wood Doors
Wood is a naturally beautiful choice that also has the ability to remain unaffected by changes in temperature because it is a poor conductor of heat. Other benefits of wood doors include:
Aesthetics – wood doors invoke a natural rustic feeling that is pleasing to the eye and the emotions

Durability – solid wood doors hold up well over time

Return on investment – a solid wood door can last a long time while retaining its beauty

Resistant to outside noises

Fire retardancy

Styles include different types of woods and finishes
If you would like to explore your options or need door installation services, the professionals at Thomas V. Giel Garage Doors, Inc., can recommend a stylish and appropriate entry door for your house style and budget and perform expert and secure installation. Visit our website today for more information or to schedule an appointment.