How Often Should My Garage Door Be Serviced?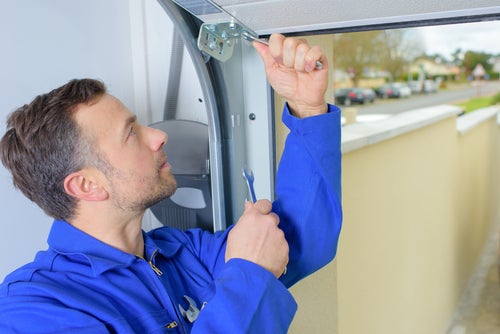 Most people in Pittsburgh will only service their garage door when it shows signs of weakness or when something breaks. Unfortunately, this is a dangerous approach that can end up costing more money in the long run. Garage doors just like other mechanical devices can experience wear and tear, therefore it is pertinent to regularly check and/or service your garage door. 
How often does my garage door require professional service?
The Thomas V. Giel Garage Doors, Inc. professional Pittsburgh garage door technicians say it is best to service your garage door at least twice a year. However, you can also incorporate your own simple preventive maintenance routine that includes lubricating areas of the door, and tightening bolts and screws. Still, it is imperative to have a Pittsburgh garage professional check your garage door semi-annually. When servicing your garage door, consider the following:
 When to Service
For complete assurance, service your garage door system at least twice a year. Ensure that one of those services occur in the fall season to prepare for the cold winter temperatures and snow. Check the door again in early spring when temperatures and moisture levels have changed. 
Rollers & Hinges
Rollers and hinges must always be in perfect condition. These parts are prone to splitting and cracking, therefore they should be checked, and repaired regularly to ensure they are secure. 
Balance the Door
If your garage door is halfway open and you notice it moving up and down, it is a clear sign that the torsion needs to be adjusted. Springs tend to break when they are old or in the winter during cold temperatures. Request the help of a professional repair technician to fix this as soon as possible. 
Lubricate
Hearing an unusual squeaking sound when you open or close your garage door? This means that it needs to be lubricated. Lubricate all metallic moving parts with a non-greasy, non-silicone-based garage door lubricant. Don't forget to open up the motor and lubricate all of the nylon parts with grease – especially the drive gear. Pay special attention to hinges, rollers, and springs, especially during the wintertime as these objects require more lubrication during cold months. 
Bottom Seal & Weatherseal
Depending on the condition of the weather seal and bottom seal, it might need to be replaced. The garage door should not have gaps that allow air and light to enter. If you notice these occurrences, it might mean the bottom seal is experiencing wear from animals or shrinkage from moisture, or both. 
It is of utmost importance to have your garage door serviced by a professional twice a year. Yet it is also great if you routinely do your own check-up. By doing this, you'll immediately become aware of the problems your garage door may have and if the help of one of Thomas V. Giel Garage Door's Pittsburgh garage repair professionals is needed immediately.