Decorate Your Garage Doors This Summer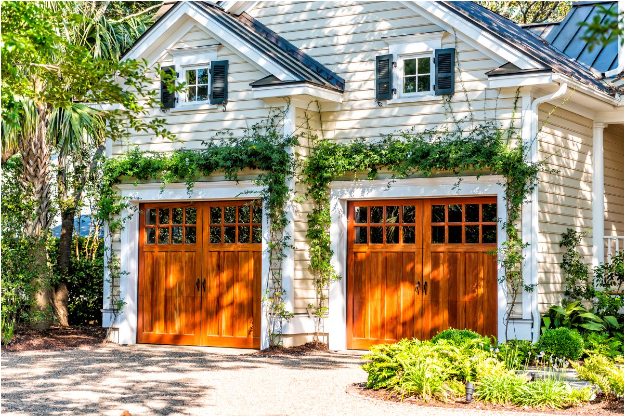 A garage door isn't uncommon to have connected to a house. However, it can be a little outdated looking just being painted. What's the best way to spruce up your garage door? How can you make it look amazing without overdoing it? We'll go over some ideas to get you one step closer to having an eye-catching garage door area.
First Things First 
Renting- If you rent, you may need to get the owner's permission and make sure they're okay with you making the changes. They may have conditions to negotiate to ensure it'll still look nice. They may only let you make changes to the surrounding grass, or say potted plants or decorations only.
Own- If you own your home, then this isn't an issue to update your door. Now you just have to figure out if you want to plant flowers, pot plants, paint the garage door or change it completely. 
Plants and Flowers
Ivy- You can plant ivy to grow around your garage door. It looks beautiful and elegant as it drapes around it. However, you need to make sure the ivy you decide on can handle the amount of sun and shade the area gets. 
Potted trees- A small species of tree is always a wonderful look to arrange near your garage.
Hanging baskets- A beautiful way to delicately showcase your favorite flowers. Pair colors for a homier look, or choose bright, stand out colors.
Bushes- Rose bushes are a popular choice to dress up a yard. Especially a focal point like your garage door. 
Design
You don't have to settle on just changing the color of your garage door. You can also consider changing it all together, especially if you've gotten some dings in it throughout the years. There are all kinds of designs with or without windows with different styles to choose from. Thomas V. Giel Garage Doors, Inc will make the changes for you if you decide to switch your door out. 
Color
There's no limit to this unless your landlord gave you a specific color only. Matching a nice paint with the outside of your home can be tricky though.
With many ways to decorate around your garage doors, or designs you can decide on. There's no reason to keep hating your current doors. Let's get your garage door needs taken care of and your home looking even better.