7 Benefits of Retractable Screens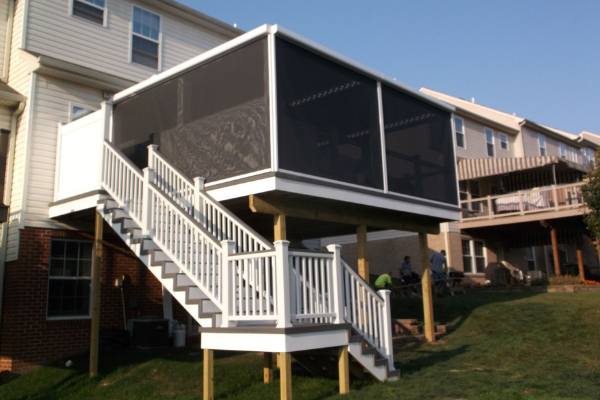 A screened porch can be a very comfortable and attractive living space. There are no rules dictating that porches have to be bare spaces with aluminum furniture. The addition of lights, outdoor carpeting, hot tubs, gas fireplaces, and even a TV set can turn your ordinary deck or patio into an oasis that your entire family will want to enjoy. The retractable screens that can create and define these spaces are cost-effective and attractive.
Retractable screens become an integral part of outdoor living by:
Creating an outdoor living space

– Retractable screens can essentially add another room onto your house and give you more space for relaxation and social gatherings.

Protecting you from insects

– Nothing can ruin your enjoyment of being outdoors more than having to shoo away mosquitoes, flies, and other uninvited pests.

Adding value and curb appeal to your home

– Everything you do to improve the amount of living space and the attractiveness of your home increases the value and makes it more appealing to potential buyers.

Offering customizable options

– Retractable screens are available in many different frame styles and colors and fabric or mesh options to perfectly match the style of your home.

Being easy to use and maintain

– There is no need to set up or take down your screen every time you want to use it. Simply extend it or retract it with the touch of a button. Your retractable screen will only need minimal if any cleaning.

Shading and sheltering you from the elements

– Retractable screens, shades, and awnings not only give you a place out of the sun, but they can noticeably reduce the need and costs for air conditioning during warmer months. 

Letting in light and fresh air

– Retractable screen doors and retractable window screens can give you the ability to let the outdoors in and freshen your home without bugs and debris making their way inside your house.
Thomas V. Giel Garage Doors, Inc. is your source for many different styles and options of retractable screen doors and window screens. Contact us today to schedule a service call or to receive a free estimate.