5 Reasons You Should Have a Louvered Pergola Installed This Spring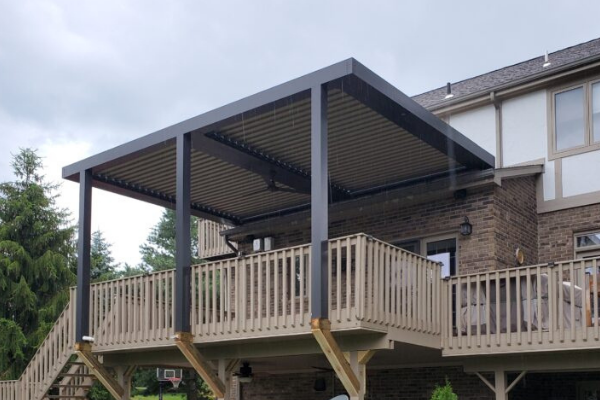 Dating all the way back to ancient Egypt and perhaps even earlier, pergolas have survived the test of time. They have been used to create shade for terraces and walkways, as the framework to grow vegetation, and as upscale hanging gardens for the affluent social classes. While they have evolved in form and function, pergolas are as beneficial for us today as they were centuries ago.
The use of a pergola is a way to improve a patio or other outdoor living space that is less than an enclosure but more than an open bare space. Pergolas usually consist of columns that support roofing style rafters or beams. They can be attached to a house or other structure or built as a freestanding structure. The amount of shade a louvered pergola provides can be controlled. The rafters can allow bits of sunshine to peek through or the shelter can be closed and shaded completely. The design styles are limitless and can be adapted to accommodate any style of home and climate. The definition of a pergola also extends to retractable shades or awnings that are popularly used to create backyard retreats and spaces for entertaining.
Spring is a great time to reimagine your outdoor living space and redesign it to meet your needs and goals. Here are just a few of the ways in which a pergola can improve your lifestyle.
They increase your home's value

– A pergola raises the property value of your home by adding attractive living space.

They are cost effective

– The many design options and styles mean that it doesn't have to break the bank to install a pergola.

Pergolas create privacy

– Even though the design of a pergola is inherently open, you can use your imagination to add dramatic curtains or screens to provide greater privacy in your backyard.

They can offer the desired amount of shade

– Whether you want some sunshine to nourish plants or complete shade for a cooler space to hang out, there is a design option that is just right for any purpose.

Pergolas require little to no maintenance

– The pillars, beams, and stationary or retractable shades are easy to rinse off and can provide many seasons of enjoyment.
Thomas V. Giel Garage Doors, Inc., has the expertise to help you choose the right pergola system for your home. Our insured and licensed technicians can perform the expert installation to create your perfect space. Contact us or visit our website today to learn more or to schedule a consultation.