Different Types of Awnings and the Benefits of Each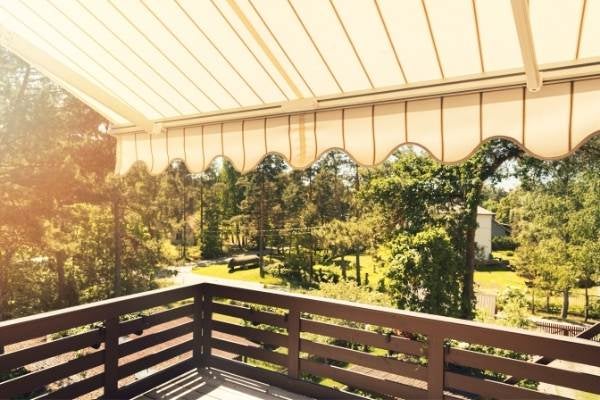 7 Awning Types and Their Advantages
Awnings are a great way to incorporate shade and protection into your outdoor living space. With so many different styles, colors, and sizes available, the first decision you'll need to make is what awning style you want for your home. Here are some of the most common types of awnings along with the benefits each one offers.
Minimalist
A minimalist style awning provides the most stylish look with very little fluff. Since there are no side panels, minimalists are best suited for doorways and can be great space savers.
Cascades
A cascading style awning is one of the most popular because of its artistic appeal. The "cascading" effect allows these awnings to fit in virtually any setting and provides a nice change from the traditional vertical look of most fabrics today.
Butterfly
The butterfly-style awning provides light and shade in one. Other than the fact that they are a bit more expensive, butterfly styles are very similar to minimalist styles. Both come with no side panels, and some homeowners believe they provide just as much shade as those with panels.
Roman
A Roman-style awning is best suited for higher ceilings, doorways, and windows that require maximum protection or protection from the sun. Roman styles are similar to the cascade style, except Roman styles have side panels. This gives them a more traditional look and feel.
Motorized
A motorized awning allows you to control when you want to have shade, light, or both. With so many options available, you can find one that perfectly suits your home's needs and your individual preferences.
Aluminum Awnings
Aluminum awning styles are by far the most common. They are easy to maintain, come in a variety of colors, and are very affordable. The average aluminum awning will last 10 to 15 years.
Roller
A roller-style awning does not require the use of a wall or bracket and instead attaches directly to the ceiling, rolling back when you need sun or shade. This is an excellent option for homes with vaulted ceilings and allows you to take advantage of every inch of available space. If you're interested in retractable awnings for heat and sun protection, contact our team at Thomas V. Giel Garage Doors, Inc. today.
Conclusion
There are many factors that you'll need to consider when going out to purchase a new awning. Think about multiple aspects of an awning including size, colors, materials, and your desired budget to make the right choice for your home.