3 Reasons to Install a Retractable Pergola This Spring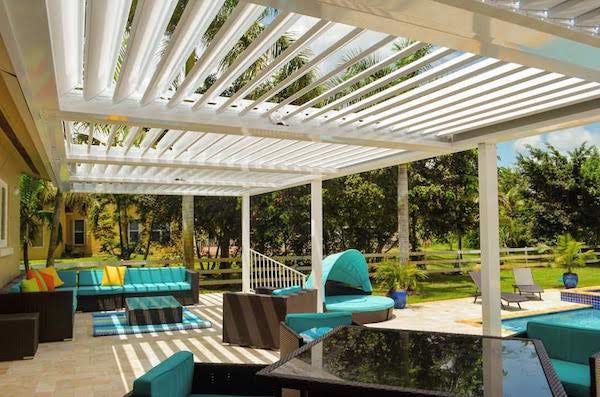 For many Americans, spring represents the onset of home and yard improvements. Countless products and projects promise a more beautiful or functional area. Neighbors share ideas and sometimes compete to have the newest or most beautiful pieces. Savvy homeowners often instigate projects that will improve both beauty and functionality. Among such projects are shade structures such as gazebos and pergolas. Different varieties of these structures offer varying benefits. Below are a few reasons to install a retractable pergola this spring.
Protect Skin and Belongings
Sunshine is a welcome aspect of spring weather. Prolonged exposure to sunlight can damage skin, fabric, and other articles. Nature lovers express growing concern over skin cancer, dark spots, and other sun-related ailments. A retractable pergola provides relief from harmful ultraviolet rays. It also serves to protect an area from falling debris, and the shade created by a pergola offers relief from summer heat.
Save Energy
When outside temperatures rise, a home will require additional air conditioning to maintain a comfortable living space. A pergola or other shade structure can reduce the amount of direct sunlight a home receives. Because direct sunlight heats a home's interior, reducing rays can help keep a home cool, lowering energy usage and cost. The shade will likewise reduce the temperature of the covered outdoor area. If the exterior temperature is cooler, especially around doors and windows, the home will be cooler as well.
Enhance Your Home
Few projects can enhance a home as much as installing a retractable pergola. The home will be more aesthetically pleasing, and occupants will delight in a comfortable outdoor space. Increased comfort outdoors often translates into a more enjoyable home atmosphere altogether. Additionally, a retractable pergola improves a home's resale value, so homeowners can experience additional security when the time comes to appraise or sell their home.
Human nature leads us to continually seek ways to improve ourselves and our surroundings. Spring is an excellent time to improve a living space. Although many remodeling projects are available, retractable pergolas are an increasingly popular option for homeowners nationwide. If you are looking to protect yourself and your belongings, save energy, and enhance your home, a retractable pergola from Thomas V. Giel Garage Doors, Inc. may be the best choice for you this spring. For more helpful information about home improvements, browse the Thomas V. Giel Garage Doors, Inc. blog.