5 Types of Mounted Garage Door Openers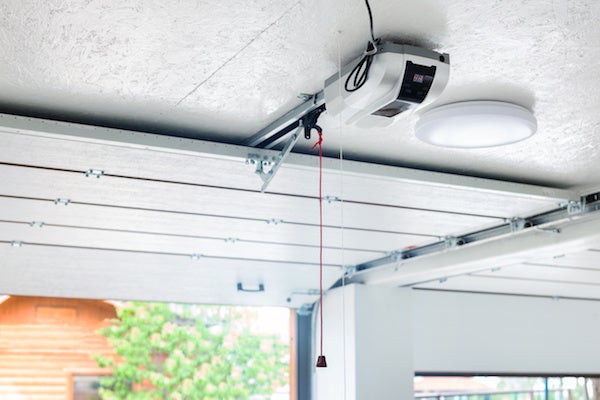 Spring is an ideal time to replace worn-out or outdated garage components. While painting walls and installing shelving may be more exciting updates, it's important to be proactive about the maintenance of the most functional feature of your garage: the mechanism that operates your garage door. The following is a user-friendly guide to select the right garage door opener for both your budget and lifestyle.
General Considerations
Lightweight aluminum doors are a good match for ½ horsepower openers at home, while larger, heavier, or single-piece doors may require ¾ – 1 ¼ horsepower openers. Larger motors last longer, although they may have a higher initial cost compared to smaller motors.  In addition, consider how much noise is acceptable.  For example, will the opener be used in an attached garage next to a bedroom? Lastly, decide how much maintenance you're willing to put into its upkeep.
Wall Mount (Jackshaft)
For garages with vaulted ceilings or for homeowners seeking additional overhead space, a wall mount (or "jackshaft") opener is a good option. One benefit is that no overhead electrical sockets are required because it is mounted on the wall at eye level and can reach standard outlets nearby. These garage door openers require professional installation, and the use of belts means they will require regular maintenance, similar to a belt drive.
Screw Drive
This low-maintenance design is a good choice for heavy or large doors. The lift mechanism is attached to the door and slides up and down a threaded rod.  Due to the small number of working parts, screw drive garage door openers require less maintenance than other styles, such as the belt drive. Since this style has more horsepower than belt drive or direct drive openers expect it to create more noise due to the larger motor which typically runs on AC power. 
Chain Drive
These are budget-friendly openers that use a system similar to a large bicycle chain.  These generally run on AC power and are a good choice for consumers who don't mind a little added noise and understand that some regular maintenance will be required.
Belt Drive
Belt-drive openers are known to be the quietest type of garage door opener. This belt-drive opener generally runs on DC instead of AC power, making it quieter than other varieties. It uses a steel and rubber belt. The pliability of the rubber helps it to run smoothly. The rubber, however, means it will require some regular maintenance.
Direct Drive
Comparable to the belt drive, the direct drive is an alternative that produces slightly more noise while requiring less maintenance. The direct drive may use AC or DC power, rendering some models quieter than others.  Employing a stationary chain in a steel rail, the direct drive requires less maintenance than the belt drive.
There are several types of garage door openers, many of which have specific applications for many types of doors. After considering noise, horsepower, and maintenance, this list should give a general idea of which type of opener will be most appropriate for your home. Selecting the most appropriate garage door opener will ensure the garage continues to function optimally. Contact Giel Garage Doors for more information or to schedule an appointment.