9 Frequently Asked Questions About Overhead Doors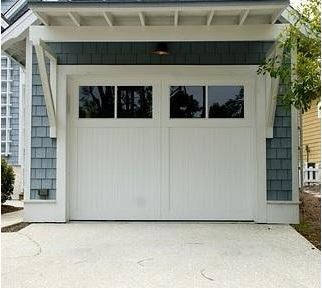 For many homeowners, the garage door is not only a place to park your car, but also the main access point for your home. Because a garage door is so important to the daily functioning around your home, it is imperative that you know and understand how it works and the do's and don'ts. Read on to learn the answer to nine of the most frequently asked questions your overhead door of Pittsburgh professionals receive.
What are the standard sizes available for residential garage doors?
As a general rule, most standard residential garage door widths are 8', 9', 10', 12', 15', 16', 18', and even 20'. Depending on the specific door type and brand, there may be some exceptions to this rule. You'll want to check with your garage door supplier to learn about the specific sizes that are available to you, or to learn about custom door widths.
Can I paint my garage door?
Aluminum garage doors can be painted any color. Be sure you use latex paint when painting your garage door.
Can I replace a section of my door or do I need to replace the entire door?
There are a few variables that will need to be taken into consideration before you can accurately answer this question. The amount of damage that your door sustained is going to be one of the biggest contributing factors. In most cases, minor damage can be rectified by simply replacing the damaged sections of your garage door. Extensive damage to more than just the panels will generally require the whole door system to be replaced. Your garage door professionals will be able to assess the damage and provide you with recommendations on how best to repair or replace your garage door system.
What is R-Value and how does it benefit me?
R-Value is a standardized unit of measuring thermal efficiency. The higher the R-Value, the greater the insulating properties of the product. Different garage doors are equipped with a wide range of R-Values, designed to meet your specific needs.
How much does a new garage door system cost?
There are several factors that contribute to the cost of a new garage door system. These factors will include the style and type of door you select, color, size, motor and assembly, and more. We recommend you have one of our trained professionals come to your home and provide you with an estimate prior to installing a new garage door system.
What maintenance will my garage door require?
Once again, the amount of maintenance required for your garage door to continue to operate at optimal efficiency will be dependent upon a few factors. How often does your door get used? Is there any damage to the door, tracks, motor, or springs? Because each door is different, we recommend that you have your garage door inspected annually by a trained professional. A trained garage door professional will be able to thoroughly check your garage door system and perform any routine maintenance that may be needed. Investing in preventative maintenance now can save you money down the road.
Will a garage door opener work in my space if I have low ceilings in my garage?
In most cases, yes. Residential doors require a minimum of 4½-inches of headroom. In these situations, garage door systems will generally implement a low headroom extension track or a low headroom torsion rear track. For your garage door opener, you'll need a minimum of 6 ½-inches of headroom.
How can I get a new remote control for my garage door opener?
If you need a new garage door remote control, your overhead door of Pittsburgh dealer can provide you with a wide range of remote controls or wireless keypads. In order to get a new remote control, you'll need to know if your opener is a newer or older model. If you are not sure, a trained technician can come out and take a look at your opener and help you get the right remote control for your opener. In most cases, trained technicians can also help you program your new remote control or keyless entry keypad as well.  
Can a non-insulated garage door be insulated?
Yes, you can turn a non-insulated garage door into an insulated one by simply installing an insulation kit on your current garage door. These kits are available from your local garage door supplier.
We hope you found these answers to be helpful and informative. If you have any more questions regarding your garage door, or would like to have a trained technician come to your home, please contact Thomas V. Giel Garage Doors at 724-502-2394 today! We guarantee you'll not only get superior service, but you will also get the best deal in Pittsburgh!