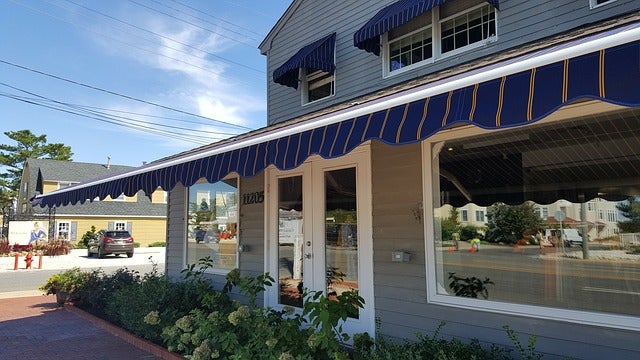 Installing an awning at your home or business makes a lot of sense. Do you own a deck right outside your home or a dining patio at your restaurant? Don't let the rain or sun force anyone inside. With the right awning in place, mildly inclement weather doesn't automatically turn the exterior off limits. An awning provides decent shade while also contributing to the beautification of a home or business. But which awning should you install?
Fixed vs. Retractable Awnings
You can choose between two major types of awnings: fixed and retractable. Fixed awnings, also known as stationary awnings, remain in place once installed. That's why they get the name permanent awnings. Calling them permanent wouldn't be entirely correct though. After all, the awnings can be disassembled and removed.
Retractable awnings require a little less effort. The retractable versions use a roller system to pull an awning back into a folded "out of sight" position. Thanks to the roller, the awning can be locked out in place or pulled back anytime you wish. Depending on the setup, rollers can be cranked by hand or turned by an automatic motor. Both fixed and retractable awnings maintain their pros and cons. Just look at the benefits and drawbacks of both prior to an installation decision.
Fixed Awnings: Pros and Cons
Fixed awnings generally come with sturdy construction. The awning needs to remain in place 24/7 during all kinds of weather. Steel parts help ensure the sturdiness of the awning. Another added benefit is customization. Fixed awnings can be built to order, allowing the buyer to choose a custom job from companies offering Pittsburgh awnings .
Unfortunately, the 24/7 nature of these awnings means they remain exposed to the elements. Steel can rust, and awning fabric may fade with exposure to the sun after a few years. And custom jobs can be a bit more costly initially.
Retractable Awnings: Pros and Cons
Retractable Pittsburgh awnings such as the ones sold by the Thomas V. Giel Corporation can be pulled back during bad weather. This extends the life of the awning and preserves the buyer's investment. Automatic motors can drive the price of these awnings up, but the less costly manual option still exists. Overall, retractable awnings can be a good choice.