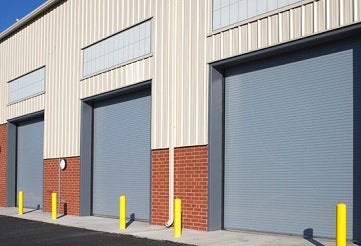 Though you might think differently, commercial garage doors are not very different from residential garage doors. The only differences between commercial and residential garage doors are the styles and available sizes. Commercial doors are generally less ornate, and are available in larger sizes. When it comes to Pittsburgh commercial garage doors , there are two main types of doors: coiling roll-up doors and sectional garage doors.
Coiling roll-up doors, also known as service doors, are made from horizontal metal slats, usually steel. When the door is opened, the slats are rolled up into a coil above the door, just like their name implies. They can be manually operated by lifting up or pulling down the other options for operating include, chain hoists and electric motors. Service doors are generally found in industrial buildings, stores, and other commercial buildings. They are appealing to most business owners, because the metal slats serve as a great protection against break-ins and harsh weather elements.
Coiling roll-up doors, can be built to custom sizes, up to 24 feet wide, and are perfect for buildings that don't have the required amount of backroom needed for a traditional-style garage door. The term "backroom" refers to how far back the wall is from the opening of the door. Service doors provide the perfect compact option for those who have limited space available, because of how the door coils above its opening. Even the operational components, such as the motors and chain hoists, are compacted into the same area as the door when it is rolled up.
Unlike coiling roll-up doors, or service doors, sectional garage doors do not roll into a compact coil. Sectional doors are similar to what you will typically find on most homes, just lacking the design and style aspects. Large sectional doors are operated by a motor, whereas smaller sectional doors are often hand-operated. They open with a system of springs and cables, moving the door upward, and then horizontally across the ceiling. This is where having adequate backroom space is essential, so that your door has somewhere to go when opened. The garage's ceiling must also be strong enough to support the full weight of the garage door.
The advantage of having a sectional door installed rather than a coiling roll-up door is that sectional doors are significantly cheaper and are available in more styles. There are more options to customize your sectional door, including being able to add windows.
When looking for new Pittsburgh commercial garage doors, Giel Garage Doors offers a wide selection of commercial garage doors to fit your specific needs and budget. Contact us today about your commercial garage door needs, and we'll make sure you get the right garage door for your business!