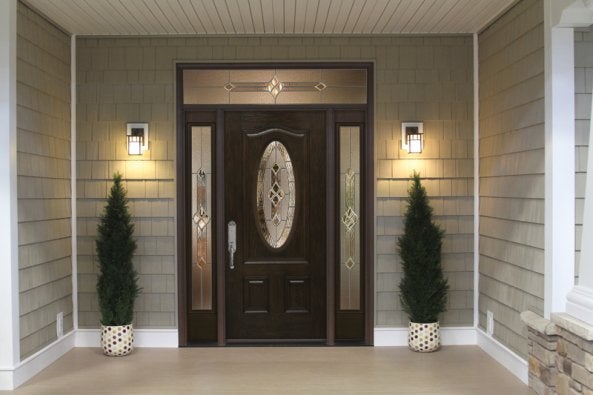 The front door of your home is an essential element to any home. The front door is what greets all visitors to your home when they first arrive, while also saying a lot about the people who live there. How do you pick out an entry door that is going to fit the style of your home, while adding value and being aesthetically pleasing to look at? After all, the entry door is a key component to your home, and therefore, there is a lot riding on you to make the right decision when purchasing entry doors Pittsburgh .
Because entry doors provide a level of security to your home, and can add or subtract from your home's overall curb appeal, replacing front doors is constantly rated as a high-value project for homeowners to invest in. When you invest in replacing the entry door of your home, the value of a new door will nearly exceed the initial investment, meaning that the money invested in a new entry door is going to pay off quickly. But how do you know what door is the right door for your home? There are many different options to choose from, and you need to be sure of what you want with every aspect of your door, including its materials, design, and safety. We've complied four tips to help you find the right entry door for your home.
1. Establish A Budget
Before you begin to shop for a new entry door, set a pre-determined budget of how much you are comfortable spending, and stick to it. As is typical with most home projects, it is very easy to go over budget by not considering all of the included costs up front, or unexpected delays. Because a new entry door is an investment, it is important to take time to carefully set a budget that reflects careful planning and decision-making on your part. When determining the budget for your new door, here are a few things to consider:
Upfront cost vs. long-term benefits
Estimated life
Maintenance requirements
Energy efficiency
Weather protection and performance
Pre-finishing costs or additional staining or painting required
Entry doors that stay within budget and add value to your home are the ideal options. Many Energy Star certified doors can lower your heating and cooling cost by protecting your home from drafts and leaks.
2. Choosing Materials
The material that your door is made of will play a role in determining the overall effectiveness of its performance. Another aspect to consider is that different materials will also come with different maintenance that will need to be taken care of to ensure that your door lasts for years to come. Materials also affect the cost of the door, so be sure to do your research to know what materials will fit in your budget and which ones won't. Most doors will be constructed of either wood, steel, or fiberglass, and many offer panel styles and have the option of adding glass. Decorative glass will be an additional cost, and is generally available in a variety of patterns, featuring different textures of glass and bevels.
Wood: Wood doors add a classic appearance to any home, with intricate grain patterns and color markings. When it comes to wood doors, there are many different styles, wood types, panel styles, decorative glass, historic accents and embellishments to choose from. While wood doors are beautiful and add a lot of character to any home with their natural, warm appearance, wood doors are generally more expensive than doors made of other materials. This is important to remember, especially with a lower budget.
Steel: Steel doors are generally the most affordable door material option available. Premium steel doors are the elite class of steel doors. They are extra durable while resisting dents, and they also don't warp or crack. Most steel doors are limited to panel design and paint color, all while featuring a smooth surface. Some steel doors can include an insulated core that helps with the energy efficiency of the door.
Fiberglass: Fiberglass doors give you the option of either having a door that has a realistic look of stained wood in a variety of grains, or a smooth panel surface for those who prefer a painted door, all without the high price tag of a custom door. Fiberglass doors are high-performing, energy efficient doors that are also durable and require little maintenance. Not only are fiberglass doors energy efficient, but they are also available in a wide variety of panel styles, decorative glass, and finish options. They are also dent-resistant and won't rust or corrode, making fiberglass doors a popular option for homeowners.
3. Size
The standard size for an entry door on a home is 80 inches tall by 36 inches wide, and 2 inches thick. Depending on your home, the entry door required may be taller, wider, thicker, or even need double doors, a side light, and so on. In order to purchase the correct sized door for your entryway, include any side lights, transoms or other decorative elements to help you ensure that your purchase is the correct size.
4. Style
When selecting an entry door, select a door that complements the style and design of your home, while adding curb appeal. An entry door is a way to showcase you and your family's personality. Those who are more traditional may choose to select a classic wood door, while those who have a more artistic personality may opt for a door that has more customizable options available. Because your home is your place to reflect your style and personality, it is important to find an entry door that fits you and your home.
For those homeowners who live in Pittsburgh, a professional can help you to select the right entry door for your home that fits your style and budget. Entry doors Pittsburgh can help to make your home stand out from the other houses on the block, making your home distinctly yours. Call Thomas V. Giel Garage Doors today to get a free estimate on replacing your existing entry door with one that adds value to your home, while showcasing your personality!