Contemporary Home + Modern Garage Door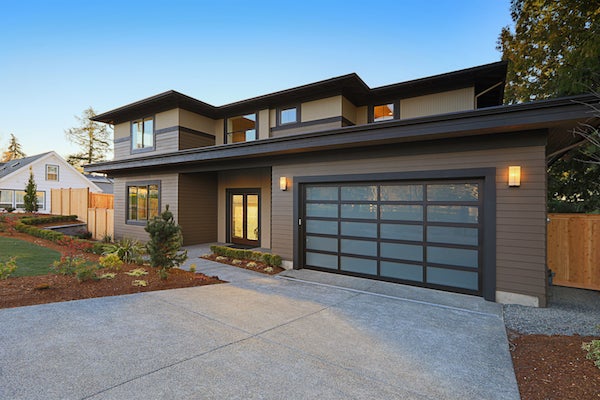 Contemporary and stylish, yet minimally designed homes are gaining a new prominence. At the same time, modern garage doors in Pittsburg, PA are also on the rise. More and more people are noticing how nicely modern garage doors complement the contemporary home exterior. Homeowners can easily capitalize on this trend and upgrade their garage doors to a modern, sophisticated design. 
Fortunately, modern garage doors in Pittsburgh, PA comes in different magnificent designs. To help you decide which is the best modern garage door for your contemporary house, here are our top picks:
Steel Garage Doors
These modern doors are sleek and stylish and are built for performance. Steel garage doors also come in a variety of styles and are cost-effective. These doors feature a combination of steel and sprayed-in foam insulation, providing with better insulation than glass or wood doors.
The thermal efficiency of steel doors not only helps to ensure your garage is properly insulated, but it also reduces noise. Steel garage doors also have tamper-resistant bottom brackets, pinch-resistant panels for safety, and reinforced steel and struts to strengthen the framework.
Wood Garage Doors
The elegance of a wooden garage door is perfect for balancing the structured, geometric look of a contemporary home. Wood garage doors create warmth, exude luxury and rustic beauty, and add a natural touch. This garage door model creates a natural appeal, equipped with modern technology. Wood garage doors have shiplap style connections between sections, steel-pinned wood lock mechanisms and zinc-coated steel for unparalleled strength that will help lengthen the lifespan of your garage door.
Glass Garage Doors 
Enhance the classy look of your contemporary home with a dramatic, stylish and unique glass garage door. Glass garage doors look sophisticated and stand out. These garage doors are exceptionally luxurious and come with flexible bottom seals to protect your garage from dirt and debris. Glass garage doors have a lower insulation value than steel doors, but they feature frames and panels filled with foam-in-place insulation to provide thermal efficiency.
Modern garage doors in Pittsburgh are the new trend to enhance your contemporary home. Steel, wooden and glass garage doors are the most prominent. All of these emanate a unique style and provide, a picturesque appeal but, most importantly, they offer the safety and efficiency necessary.