4 Things to Consider Before Buying a New Entry Door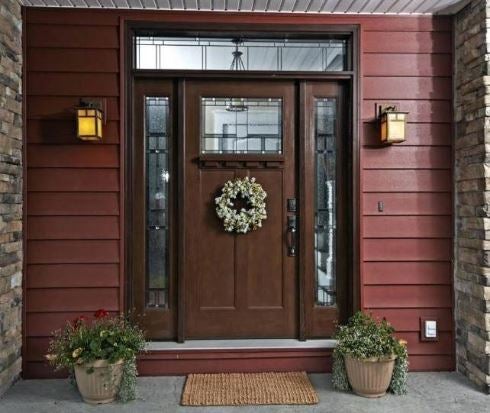 There are numerous reasons why you might be looking into replacing your current entry door. Your reasoning can range from necessity, to updating your home's exterior and curb appeal.
Regardless of your reasoning, there are countless entry door options available that cater to nearly every style and preference. But before you head out to find the next perfect entry door for your home, read on to learn a few tips that will help make the shopping experience an enjoyable one.
Is now the right time to replace your door?
One of the biggest indications that your entry door needs to be replaced is signs of physical damage—cracks, warping, rotting, holes, and scratches. A simple inspection of both the interior and exterior of your door will give you a good indication of any physical damage that your door might have sustained. Once you have detected physical damage, you may want to determine if the damage is severe enough to warrant a replacement. Indications of rotting or warping can almost guarantee that you'll need to seriously consider replacing your door in the near future.
Another important factor that you are going to want to check isn't as easy to see. You'll want to check your door for drafts. One of the easiest way to do this is by performing a simple flame test. Hold either a lit candle, match, or lighter close to your door. Move your flame around, watching the flame closely. If the flame starts to flicker at any point, this is a good indication that you've found a draft.
Drafts cause your home's heating and air conditioning units to work harder to achieve a comfortable and desirable temperature. When your system is forced to work overtime, it can cost you hundreds of extra dollars every year. This is where the investment in a new door can actually save you money in the long run. New, energy efficient exterior doors will not only help to lower your home's utility bills but you'll also notice that your home will be comfortable year round.
Understand Door Terminology
Once you have determined that now is the right time to purchase a new entry door for your home, you'll want to know and understand the basics of door terminology. Knowing the different terms will ensure that you purchase the right door. Here are a few terms that you should know and understand for when you go shopping for a new entry door.
Lite:

glass found in the door

Caming:

strips of metal that are used to join segmented glass

Casing/Trim:

molding that surrounds the door frame

Stop:

strip of wood located around the entire inside of the door that prevents the door from swinging too far

Panels:

rectangular patterns located on the door, used for show

Inswing:

a door that opens inward

Outswing:

a door that opens outward

Left Handed:

hinges that are located on the right side of the door

Right Handed:

hinges that are located on the left side of the door
Make a Great First Impression
Your entry door is the first impression that people will have of your home. It is also the last thing visitors see when leaving your home. As a result, you may want to find a door that protects your home, while making a lasting impression.
There are different styles and colors that you can choose from to make a statement, but also consider how the material your door's made with can create an impact. Each material offers different features that you'll need to wade through to find the perfect statement piece for your home. Whether you are looking for a door that looks elegant, has superior durability, or is energy efficient, there is a door out there for you.
Wooden Doors Equal Elegance: Wooden exterior doors provide your home with an elegant and traditional look. These types of doors are guaranteed to improve the overall curb appeal of your home. In addition to being beautiful, wooden doors are sturdy and secure.
But they come at a hefty price. Wooden doors are expensive to buy and costly to maintain. In order to preserve and maintain their elegant look, you'll need to regularly stain your door. Other common  problems with wooden doors include warping and rotting.
Steel Doors Provide Strength: Homeowners looking for an entry door with superior security and durability will want to consider a steel door. The majority of steel doors are made with 24-gauge steel, making them difficult to dent or bend. Another great feature of a steel door, is that they are resistant to fire, warping, and cracking.
Another great feature of a steel door is its energy efficiency. Steel doors can be filled with foam, which will save you money on your utilities every month.
Fiberglass is the Perfect Combination of Both Worlds: Homeowners who want the look of a wooden door without the expensive price tag, can purchase a fiberglass door with a wood grain option. These doors look like wood, but without the extensive maintenance. This will save you time and money on maintenance every year.
In addition to being available in different styles, fiberglass doors are energy efficient. They're filled with foam insulation, keeping your home at a comfortable temperature year-round.
Enhance Your Door with Additional Features
Once you have found the perfect door to complement your home, you can dress it up by adding additional features. Whether you elect to add decorative glass or hardware, you can customize your entry door to complement your home's overall style. A great way to let more natural light into your home is by adding decorative glass to your entry door. For those who don't want to have glass installed in their door, consider installing sidelights or a transom above your door for additional light.
As you can see, there are many decisions to be made when purchasing a new entry door Pittsburgh. Take some time to explore your options.