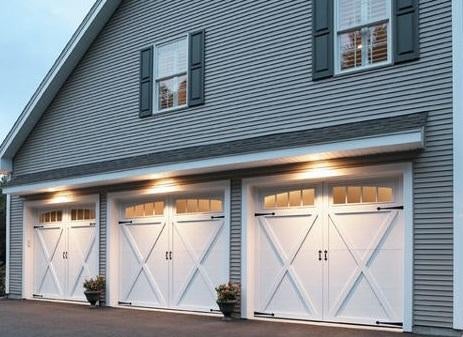 Whether you are looking to replace your old, outdated garage door with custom garage doors , or are building a new home, there are a few things you need to consider before you make the purchase. Factors including where you live and the resale value should factor into your decision. Keep reading to learn more factors you should consider before purchasing a new, custom garage door for your home.
Location
Garage doors are extremely heavy objects, therefore, they require necessary hardware and tracking that is dependent upon your location. Based on weather and climate safety measures your new garage door may require additional bracing or other installation specifications.
Wind and water aren't the only elements that can impact your garage door. The direction that your garage door faces can also affect your door. If your garage door faces the sun, your home and garage are more likely to heat up from air escaping from the garage. If this is the case for you, consider purchasing an insulated garage door to improve energy efficiency throughout your home.
Energy Efficiency Requirements
As with most custom items, a custom garage door will cost more than your typical garage door. But, a typical garage door won't be able to save you nearly as much on your utilities as a custom, insulated door would. Choosing to purchase a door that has a higher energy efficiency rating will not only aid in keeping your home warmer or cooler around the garage, but it will also save you money on energy bills.
Market Value
Any investment you make in your home will increase your home's resale value. Before you make a final decision on the garage door that you want to purchase for your home, you should first calculate the cost of your home. This will allow you to determine how much value will be added to your home when you purchase a new door.
The price of garage doors vary, so knowing how much return you'd get on your investment can help to justify your decision to purchase a new door.
Type of Door
There are different types of doors to choose from. The ultimate deciding points for estimating how much your custom door will cost is the type, build, and design. Some of the most common types of doors include:
Aluminum: lightweight, yet comes with a higher price tag. This is a good option for wet climates, as aluminum doors hold up better to rust than steel doors.

Steel: If you are looking for variety, you'll want to invest in a steel door. Available in different colors, insulation and flexible price options make steel an attractive choice. These doors are strong and light and can be equipped with foam insulation to protect against heat and cold.

Wood Composite: Wood doors have a classic look and feel to them, but they don't tend to last as long as other materials. Although, wood composite doors are widely available and cost effective.

Fiberglass: Fiberglass is great due to its durability. Fiberglass is known to hold up well against insects and most elements. Fiberglass is not a good option for cold climates where temperatures are known to drop below freezing.

Vinyl: Vinyl doors are one of the more expensive options available. They are great for those who are looking for a particular look or a different visual appeal than they can get with other door types. An advantage of vinyl doors is that they require less maintenance than most other options and are rust resistant as well.

Carriage House Doors: Generally, carriage house doors are more affordable than you might initially think and add a lot of curb appeal to your home. These doors are the most aesthetically pleasing style of custom doors available.
As you can see, there are many things to consider when choosing custom garage doors. If you are looking to have a custom door installed, contact the professionals at Thomas V. Giel Garage Doors today to learn more about your options and get the right door for your home!