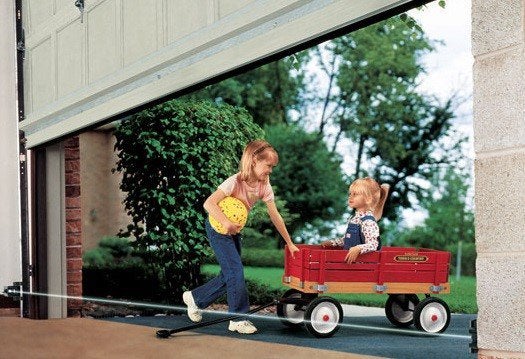 Having a garage attached to your home is a wonderful thing, with the extra storage space and covered parking for your car! While having a garage is a nice addition to a home, a garage door can also be a huge safety concern when proper garage door safety is not adhered to. Keeping a garage in proper working order will not only protect the contents of your garage, and your household, but it will also keep members of your family safe. Here are 10 Pittsburgh garage doors safety tips that everyone should be aware of.
1- Keep Garage Door Opener Out of Reach of Children
Keeping your garage door opener out of the wrong hands is the most important safety tip. Don't let young children play with remotes. Keep remotes where children can't find them and be tempted to play with the buttons.
2- Prepare for Emergencies
Should you need to open your garage door quickly during an emergency/accident, make sure you know where the emergency release feature is located on your door. Find out before it becomes urgent. It's always a good idea to be prepared for all types of emergencies.
3- Be Smart Around Garage Doors
Never step, walk, run, or play around a garage door that is opening or closing. Teach young children to not play around garage doors. Garage doors are not a toy.
4- Inspect Door Components
Every month, take the time to inspect the components of your garage door to ensure they are working properly. Components to check include: springs, cables, rollers, and pulleys.
5- Test Auto-Reverse
If your garage door is equipped with an auto-reverse function, be sure to check it regularly to ensure that it is working. Placing a roll of paper towels in the door's path is an easy way to check and make sure the feature is working properly. If your door does not have the auto-reverse feature, consider investing in a new garage door that comes equipped with the feature—it can prevent serious accidents!
6- Watch your Fingers!
Placing fingers in between door sections can result in a severe injury. Teach children to keep hands and fingers away from garage doors as well. If you are concerned about children getting hurt on your garage door, look into investing in a door with non-pinch panels to help prevent injuries.
7- Don't Leave Door Agape
Leaving your garage door even partially open can be a safety and security issue. A partially open garage door can allow unsolicited entry into your garage, and ultimately your home. Someone trying to go underneath a partially open door could get pinned and seriously injured if the door is reactivated.
8- Unplug Your Garage Door when You're Away
If you are going to be away from your home for an extended period of time, consider unplugging your garage door, or locking it so that is unusable until you return home.
9- Change your Garage Door Code Regularly
Regularly change the standard codes on the garage door opener and remotes to enhance security from unsolicited opening of your garage door. Another option is to get a rolling code that changes the access code every time it is used.
10- Prevent Invasion
A garage door is the first step in securing your home while you are away, but always be sure to lock the entry door from your garage into your home. If someone should get ahold of your garage door remote, it could mean access to both your garage and your home if the door is left unlocked. Keep tabs on your garage door remotes—don't leave your remotes with parking attendants or others you do not know. Consider putting your garage opener on a key ring so that it stays with you at all times.
If your Pittsburgh garage doors are needing repairs or maintenance to ensure the safety of everyone, contact Giel Garage Doors . Equipped with the latest and safest garage doors on the market, Giel Garage Doors can outfit your home with a beautiful new garage door that will be both functional and provide the latest safety features to protect your home and family.