When selecting an installation company for your garage door, entry/storm door, awning, or screen, it is important that you examine the company itself and not just the product you are buying. The six areas you should consider are experience, workmanship, code compliance, security, warranties, and insurance. This post will cover experience, security, and insurance.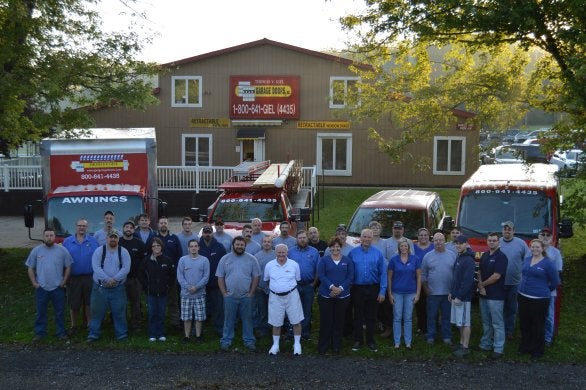 Experience
Experience means that the company and its employees can tackle your job efficiently and do it correctly. If something is novel about your job, they will have the knowledge to solve it quickly. Look at the company with longevity.
Beware of national franchise operations because franchises will normally have short ownership cycles. When you need to call for service (three to five years from installation) they are no longer in business and the next franchise owner is not responsible for helping you. Companies that have been around a long time usually have satisfied customers because they would not stay in business without them.
Find out how long the company has been installing its products and the range of models within each product. Is the job standard or will it require special work? Don't be afraid to ask for references and call them.
Don't forget; no contractor will give you a bad reference. However, after you have talked to a few, you should get a good sense of this contractor's habits. Ask if they belong to the Better Business Bureau. If they do, you can contact the BBB to see if there have been any recent complaints and how they were handled. A company that asks you questions to understand your wants and needs and takes the time to give a full presentation has usually taken the time to relate their experience through the presentation they give.
Finally, do they offer educational information on their website? Take advantage of it so you are informed on the major issues prior to speaking to a representative.
Security
Having strange men in your home can make you apprehensive or uncomfortable. You can reduce this feeling by finding a contractor who screens his employees. Ask about the screening process and how often follow-up screens are done. You're about to have strangers come into your homes and they may be there for a day or two. Don't be shy about your family's safety! Demand that your contractor performs semi-annual background checks and that all new employees or hires are checked before their first day.
Insurance
A contractor who is not properly insured can put you at substantial financial risk! For example, if a worker gets hurt on your property and the contractor does not carry workman's compensation insurance, that injured worker can look to you to pay all of his medical bills related to that injury. Make sure the company has workman's compensation and liability insurance through a well-known and Best's rated firm. Insist on seeing a copy of the insurance policy binder. Don't be impressed by someone who says he is self-insured. Often this means NOT insured. Maybe even not insurable!
Thomas V. Giel Garage Doors serves a 50-mile radius around Pittsburgh with all things garage doors, entry doors, awnings, and screens. We are the local experts with over 65 years of industry experience.