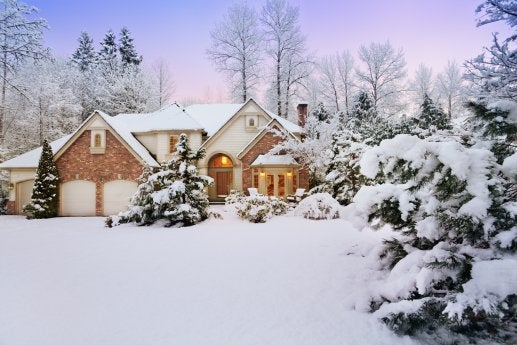 Weather can have different effects on your garage door based on the temperature, precipitation, and how both fluctuate. Here are the 3 ways the cold effects your garage door and what you can do to prevent the problems associated with them.
Problem #1: Steel Contracts
Garage Doors (mostly made of steel) contract in the cold weather. Anything on your garage door that's made of metal (springs, hinges, track, etc.) can seize up or warp if not moved regularly in the cold.
So, that is why we suggest lubricating things like springs, hinges, rollers and other metal moving parts to keep them working properly. Regular maintenance is an important part of having a functional garage in your home.
Problem #2: Water freezes
The bottom of your garage door seals to the ground in an attempt to block weather and rodents. However, during the winter months when water freezes, this can create a problem if there is any sort of puddling at the bottom of your garage door. Some garage doors can freeze to the ground and will not open if this happens.
To help prevent this, make sure your gutters and any other part of your home surrounding the door is clog free and push away water from the bottom of your garage as much as possible!
Problem #3: Operator Issues
Garage door operators are also susceptible to changes in weather. The moving parts enclosed in garage door openers work best when lubricated and are kept moving regularly (especially during the winter months). In addition, your opener's sensitivity may also play a factor, if the level is set to "light". In this case, your operator may interpret the garage door hitting an object, which could halt the garage door suddenly (without anything being in the way at all).
Please make sure you check your operator sporadically to make sure it's working properly and sensing items through the photo eyes like it should.
Thomas V. Giel Garage Doors serves a 50-mile radius around Pittsburgh. We handle all your needs when it comes to garage doors! We serve residential and commercial , and our maintenance programs help make sure your garage doors work over long periods of time. Contact us today.