7 Benefits of Canvas Awnings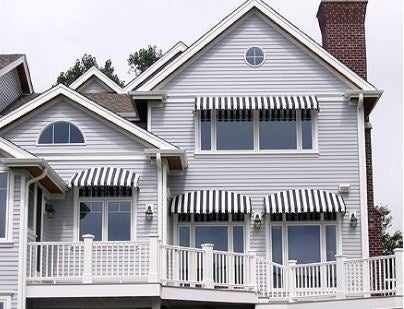 It is not uncommon to see canvas awnings Pittsburgh, PA  on both residential and commercial buildings, as these types of awnings have many benefits aside from protecting the building from harsh weather. Listed below are 7 benefits canvas awnings offer to both home and business owners.
Reduction in Heat Gain and Sunlight
Canvas awnings cut down on the amount of heat that enters your building from sunlight even more that what can be expected from curtains and blinds. By reducing the amount of sunlight that hits your windows, awnings provide lower temperatures on hot days.
Improved Aesthetics
Along with the functional value added by canvas awnings, you can also look to them from increased aesthetic value. Canvas awnings are generally available in different patterns of stripes, solids, and prints to completely dress up your home or business the way you envision it.
Protects Windows from Sun and Rain
In addition to working to keep your building cool and protected from the sun, canvas awnings also protect your windows from exposure to sun and driving rains. You have the ability to enjoy fresh air, even during a rainstorm, as canvas awnings keep your window dry.
Keeps Your Furniture Looking New
Furniture quickly starts to look old and worn when it starts to fade from direct sunlight. Awnings protect your furniture from harsh sun rays, keeping your furniture looking newer, longer. Similarly, awnings will also protect your paint, décor, and flooring from the sun's rays.
Provides Protection from Storm Damage
In areas where storms are a common occurrence, it is typical for homeowners to be left with major loss and damage to their home and belongings. When awnings are professionally and accurately installed, homes are offered protection from storm debris.
Reduced Energy Consumption
More than providing your home protection and improving aesthetics, awnings help cut down on your home's energy consumption. Awnings work to keep your home cooler in the summer and warmer in the winter. This will save you money on your electricity bills every month.
Protection from the Elements
Whether it is rain, sun, heat, snow, sleet, hail or any other type of weather, your home and windows are protected with canvas awnings. Modern canvas awnings Pittsburgh, PA are made using highly durable, long-lasting, fabrics that are easy to clean, brightly colored, flame-retardant and strong.
As you can see, there are many benefits to installing a new canvas awning. Whether you are looking for a great way to add some curb appeal  or you're looking for ways to cut down on energy consumption, canvas awnings are the way to go. At Thomas V. Giel Garage Doors, we install canvas awnings that are not only attractive but durable, reliable and long lasting.